Features
1. Built-in high quality MP3 player sound board with class D amplifier.
2. Equipped with 4 trigger inputs.
3. Negative trigger version and positive trigger version available to choose.
4. Built-in 8MB flash memory that is able to store max. 8 minutes long MP3 files of 128Kbps.
5. Load audio files to the internal flash memory through USB connection with computer (Windows preferable).
-No need any software/program. It'll be detected as a USB flash drive on computer.
6. Supports multiple functions/trigger modes.
7. The function/trigger mode of each trigger input can be set individually in a configuration file (text file).
8. Sound volume can be set as well in the same configuration file.
9. Can be triggered with normally open buttons, switches, relays or a PLC.
10. Wide power input(9-40V DC) and stable performance.
11. IPX65 protection rating and can be used outdoor.
12. Industrial grade design and strong anti-jamming capability.
Technical Parameters
1. Working voltage: 9V-40V DC
2. Working current: ≥3000mA (Input: 12V)
3. Standby Current: ≤10mA
4. Power Consumption: ≤30W
5. Flash memory size: 8MBytes
6. Audio format: MP3 (≤192Kbps)
7. Sound intensity: ≤120dB
Dimensions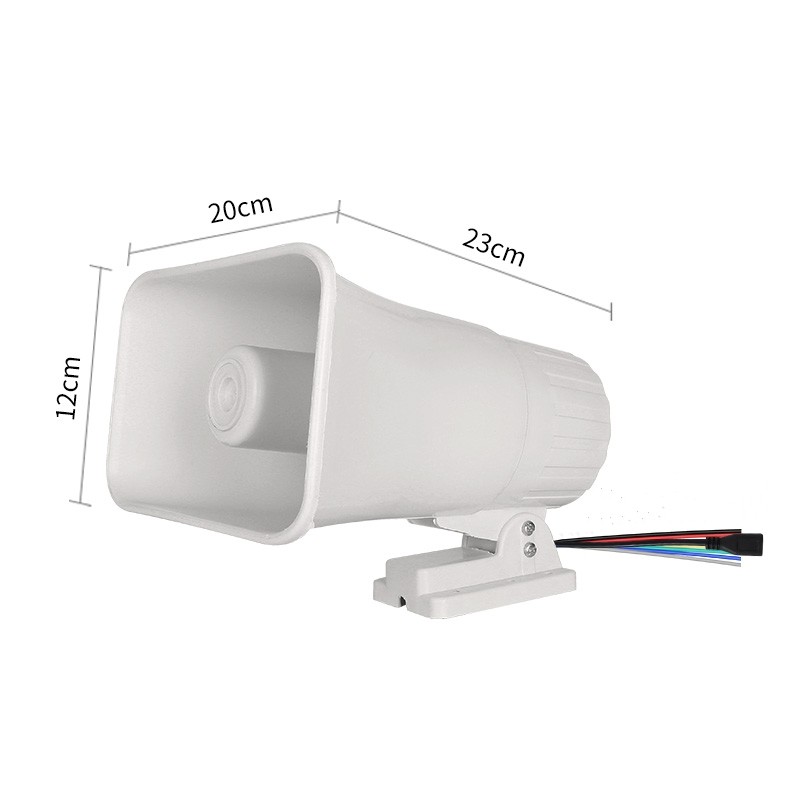 Wiring Examples