Features
1. Equipped with a 433MHz 4 key remote control.
2. Each key (A, B, C, D) from the remote triggers an associated sound file (001.mp3-004.mp3) respectively.
3. Uses a high quality siren horn. Small size but loud volume.
4. Built-in a 4MB SPI flash memory by default, and supports max. 16MB.
5. Supports max. 32GB micro SD card on the internal sound board.
6. Replace sound files easily by connecting the device to computer with the USB male plug that is wired with the device.
-No need any software/program. It's detected as a USB pen drive on computer.
7. Equipped with a class D 30 watts amplifier.
8. Adjustable sound volume through the blue potentionmeter on the internal sound board (back cover needs to be opened).
Technical Parameters
1. Working voltage: DC 9V-24V
2. Working current: ≤2000mA
3. Standby current: ≤10mA
4. Power consumption: ≤30W
5. On-board flash memory size: 4MB
6. Audio format: MP3 (≤192 Kbps)
7. Remote distance: ≤100m (open area)
8. Frequency response: 1000Hz-25KHz
9. Sound intensity: ≤110dB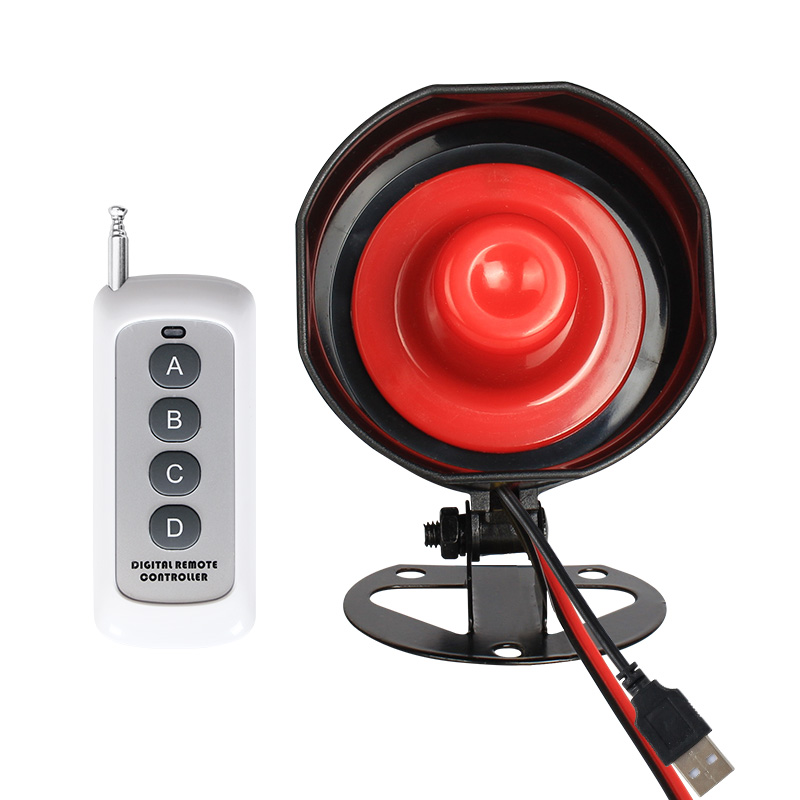 Note: When the device is powered on, there is about 5 seconds delay time, which was designed for paring a remote control during such a duration. After 5 seconds, the board will be into standby. Users can just ignore this, because the remote control has been already paired with the device at our factory.